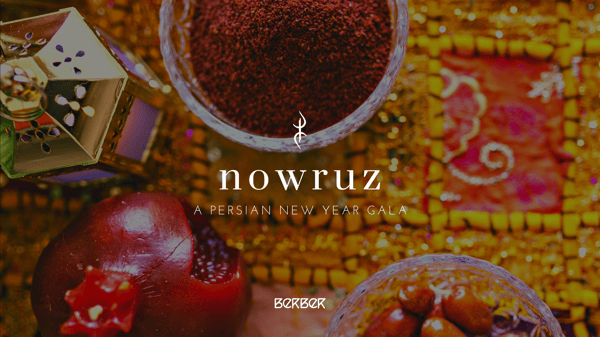 Nowruz: A Persian New Year Gala
A time of joy, renewal, and to set aside the hardships of the past year. Join us in celebrating Nowruz (Persian New Year) and the arrival of spring with a grand dinner celebration to transport you to the heart of this beautiful, ancient tradition. Dance the night away, make new friends, and discover the rich Iranian heritage at Berber.

With a live musical arrangement of Persian flamenco symphonies with rock/jazz influence by Farzad Arjmand and his band, celebrate the coming of a new year with a vibrant 4-course menu, themed to the birth of the spring season.

Farzad Arjmand is the pioneer of Persian Flamenco Jazz Group in the Bay Area. An SF-based Iranian music composer, song writer, and guitarist with a wealth of performance experience since the 1980s. With multi-talented guitarist/pianist Felix Amirian, guitarist Afshin Nazarizadeh, drummer Robert Blankenship, and bass player Andy Woodhouse, this talented ensemble will have you dancing the night away to celebrate.
BUY TICKETS NOW